Description
Indulge in the majesty of the SMDC Shore 2 Residences MOA, where your home has its own resort. It is seldom that SMDC offers you an ideal location perfect for a resort-like setting near a real-life beach, where the waves are brighter and the breeze is colder.
The true-blue ocean of Manila Bay is really a terrific sight to behold! Comprising of 3 high-rise residential condo buildings, with 18-19 floors per tower, the Shore 2 Pasay City is sure to delight every paradise-seeker in the metro. This residential development is the 2nd phase of the Shore Residences Phase 1 located in the sprawling Mall of Asia Complex in Pasay City. Here, your amenity includes the vast space outside of the Mall of Asia, as well as the commercial areas surrounding the complex. You will never run out of living space in this colossal community overlooking the bay.
The Shore Residences 2 is specifically located along Seaside Blvd., Mall of Asia Complex, Pasay City. Be overwhelmed of the this property's stylish amenities and purely functional facilities while being safe and comfortable. Its Modern architecture with a twist of a unique Organic Geometry Design is an SMDC signature property development.
Offering a total of 5,488 residential units spread through 2.5-hectare of prime land, the site is an absolute relief to those who seek an ultimate unwinding place. Its location is precious. Like a gem in a haystack, but still oozing with glow and shine along the shore. This location is situated only a few hundred meters from Roxas and Diosdado Macapagal Blvd. stretching near the boundary of Pasay and Manila. The US and Japanese embassies are just a few kilometers away. So does the MOA Terminal, including the San Juan De Dios Hospital, Ospital ng Maynila, Manila Adventist Medical Center,Manila Tytana College, De la Salle University- College of St. Benilde, St. Scholastica's College, the City of Dreams, Solaire Resort and Casino, MOA Arena, CCP, Sofitel Hotel, the World Trade Center, and other well-known Manila landmarks.
The Shore Residences MOA Pasay City is huge and colossal, with amenities that could rival the world's finest. At the center of the buildings are swimming pools with crystal clear waters, luscious gardens and landscaped areas, function rooms, lounge areas, jogging trails, basketball court, Palm court, multipurpose playing field, great lawn and pavilion, seating area, lagoon with bridge, the beach approach, playground, and definitely so much more.
The residential units are similarly elegant and spacious. Pick the 1-BR or 2-BR units for sale, with sizes ranging from 24.1 to 91.8sqm, and choose from among the best view you want facing your unit. You may want your view facing Manila Bay to the west, the Skyline of Makati to the east, and Cavite to the south. But, whichever you choose, anything will have a grand view of the natural and well-designed man-made wonders which are typically SMDC's.
SMDC, Shore 2 Residences, Condo for Sale in Pasay City, Philippines. For price list, model house, floor plans, payment terms, CHAT LIVE with an agent 24×7. If you're looking to find SMDC, Shore 2 Residences for Sale, then check here first. We have full details of SMDC, Shore 2 Residences for Sale updated regularly. Everything you need to know about SMDC, Shore 2 Residences Condo buying process, broken down into stages. Includes selecting a unit, choosing a payment plan and buying your dream home at the right price.
Vicinity Map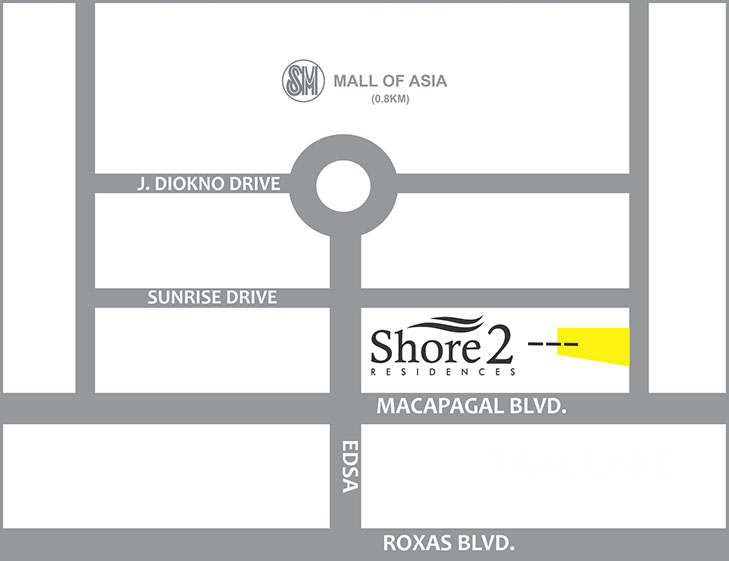 Site Development Plan

Additional Details
Project Location

Seaside Blvd., Mall of Asia Complex, Pasay City

Turnover Date

Preselling

Unit Sizes

24.10 SQM to 91.80 SQM

Price Range

PHP 3,195,000 to PHP 18,653,441