Description
The Wind Residences in Tagaytay is an absolute relief for the exhausted souls. Made up of 10 residential buildings, comprising of 4 high-rise buildings (with 20 residential floors each tower) as Phase 1 and a cluster of 6 medium-rise residential buildings (with 10 residential floors each building) as part of Phase 2, which is called The Cool Suites. Tagaytay City is only an hour and a half trip south of Manila, where the weather is much cooler, the fine breeze is readily felt once you enter the city. The majestic mountains and ridges are an awe-inspiring delight for the wanderlusts. The hills, valleys, and the forest with open grassland cover the whole city, a truly enviable scenery. The city has an elevation of 634 meters above sea level, that is why it is much colder than the rest of Cavite province. Similarly, the Cool Suites is an invigorating and refreshing treat from SMDC, the country's leader in property development. Covering a land area of 20, 390sqm, the Cool Suites' Tower A is now open with 363 available units with 50 parking slots, while Tower B has 378 units with 54 parking slots.
The SMDC Cool Suites is situated along Aguinaldo Highway, Brgy. Maharlika West, Tagaytay City, Cavite. The silhouette of the mountains, while you traverse the road to the property, is seemingly an endless array of fantastic landforms engulfing this paradise of a city.
This project, in turn, is set against the backdrop of the iconic Taal Volcano with its majestic lake clearly seen from the balconies. With less than 500 meters away from the site, the famous Taal Volcano is a welcome sight, along with all its glory and magnificence. The project is also near the famous SM Sky Ranch Amusement Park, the Mater Dei Academy, Tagaytay City National High School, Metro Tagaytay College, Tagaytay Ridge, Ayala Malls Serin, Robinsons Summit Ridge, People's Park in the Sky, Antiques Bar Restaurant, Lourdes Church, Chapel on the Hill, Tagaytay Hospital and Medical Center, and other famous landmarks of the city located in the immediate vicinity of the site. This diversity of destinations near the project just makes living at the Cool Suites more interesting and convenient.
Tagaytay is certified a top tourist destination by the country's Department of Tourism. With an estimated average annual tourist arrival (local and foreign) of more than 600,000 in the year ending 2015. Tagaytay is truly a massive tourism magnet, just like the Cool Suites, which attracts more and more investors since its launch. The project offers some of the world's finest in the design of residential units, which include a 1-BR End unit with balcony (23.78sqm), 1-BR Inner unit with balcony (23.23sqm), 2-BR (34.81-41.71sqm), 2-BR Penthouse (63.26sqm), 3-BR Penthouse (192.31sqm), and 4-BR Penthouse (216.63sqm). Parking allocation measures 12.5sqm per slot. Tower A will have a turnover date in the 1st quarter of 2017 while Tower B is expected in December of 2017. It is not late to have a piece of the Cool Suites at the Wind Residences Tagaytay, you can have yours for a minimal investment.
SMDC, Cool Suites, Condo for Sale in Tagaytay City, Philippines. For price list, model house, floor plans, payment terms, CHAT LIVE with an agent 24×7. If you're looking to find SMDC, Cool Suites for Sale, then check here first. We have full details of SMDC, Cool Suites for Sale updated regularly. Everything you need to know about SMDC, Cool Suites Condo buying process, broken down into stages. Includes selecting a unit, choosing a payment plan and buying your dream home at the right price.
Vicinity Map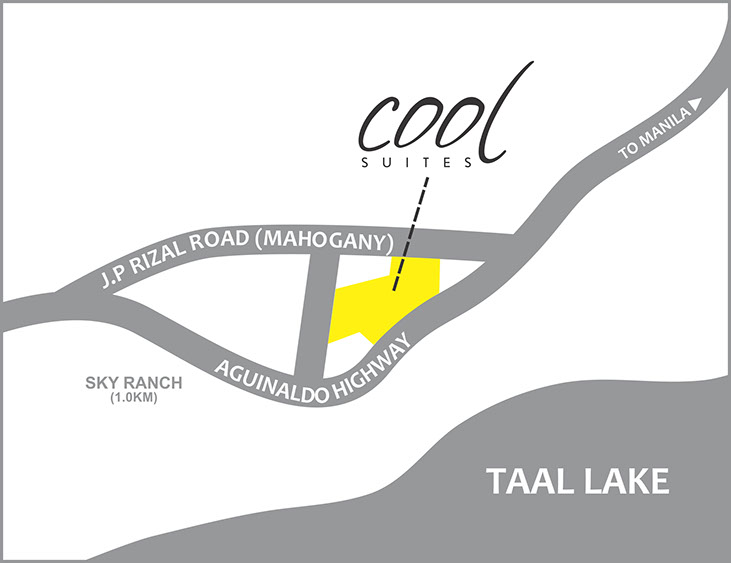 Site Development Plan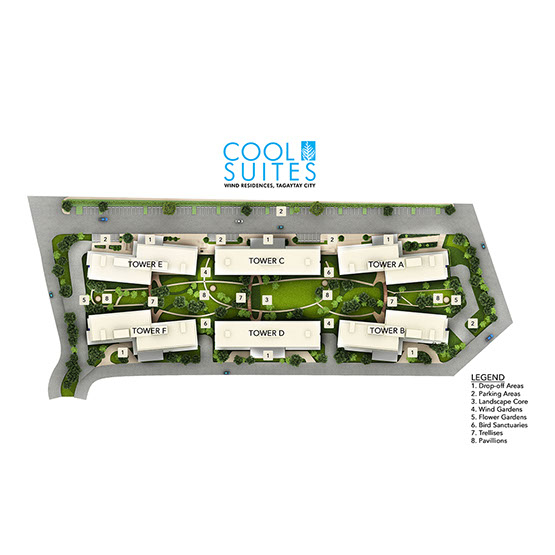 Additional Details
Project Location

Aguinaldo Highway, Barangay Maharlika West, Tagaytay City

Turnover Date

Preselling

Unit Sizes

23.23 SQM To 23.78 SQM

Price Range

PHP 2.7M to PHP 2.8M