Description
With a total land area of 6, 028 sqm., 2,067 units and 694 parking slots. Breeze Residences offers you a lavish setup. Consisting of 38 floors, residential units are spread over 32 floors, one commercial floor and five for the parking level. Savemore is situated at the ground floor to fulfill your basic needs and other supplementary retail shops. Safety and Security are the two important features that Breeze Residences will not compromise on. The building guarantees 24/7 security and is elevated from the road by 1.00m. 7 elevators are installed to serve every resident. 100% back-up power for commercial areas and for Residential Units, there will be back-up power for 1 convenience outlet, 1 refrigerator outlet and 1 light receptacle. Sewerage technical facility for sanitation system, automatic fire-sprinklers and sufficient fire exits are the modern building features ensured by the developers.
Situated along Roxas Boulevard, Pasay City, the structure will be present at the heart of the historical city of Manila giving you easy access to fulfill all your recreational, educational and basic needs.
Manila Cathedral and San Agustin Church for religious purposes & Manila Ocean Park are situated nearby. Manila Hotel, Heritage and City of Dreams are some famous casinos and hotels surrounding the building. Blocks away are the convention centers such as World Trade Centre and Cultural Center of the Philippines are popular. Holiday season can be easily accessed which is a very famous bazaar. Historical Churches could also be found within the vicinity such as San Agustin Church and the Manila Cathedral. Parks and Amusement Centers such as the famous Manila Ocean Park nearby are a must place for your children to visit.
Five star facilities of the Breeze Residences can allow you and your family to enjoy the luxuries of life. Grand Lobby and Lounge Area will make you just fall in love with it. Lap Pool and Leisure Pool for refreshing purposes and children's pool for kids are available. There's a Lawn, Shade Structure, Pool Deck, Wood Deck, Seat-wall, Changing room, Spill-over and Planter. Make yourself at home as you are able tp enjoy every amenity within your comfort zone.
SMDC, Breeze Residences, Condo for Sale in Pasay City, Philippines. For price list, model house, floor plans, payment terms, CHAT LIVE with an agent 24×7. If you're looking to find SMDC, Breeze Residences for Sale, then check here first. We have full details of SMDC, Breeze Residences for Sale updated regularly. Everything you need to know about SMDC, Breeze Residences Condo buying process, broken down into stages. Includes selecting a unit, choosing a payment plan and buying your dream home at the right price.
Vicinity Map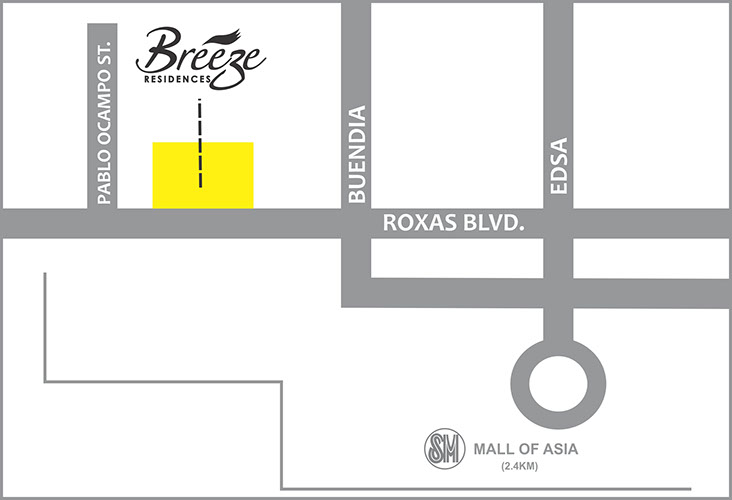 Site Development Plan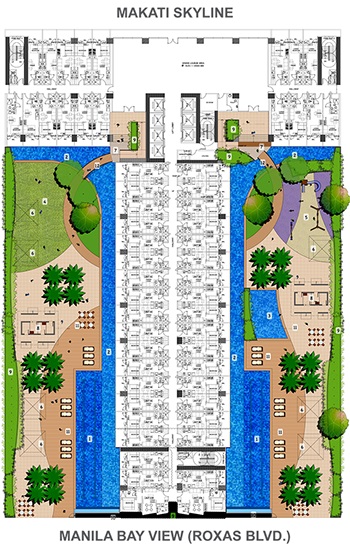 Additional Details
Project Location

Roxas Boulevard, Pasay City

Turnover Date

Preselling

Unit Sizes

22 SQM - 40 SQM

Price Range

PHP 2 M - PHP 5.3 M